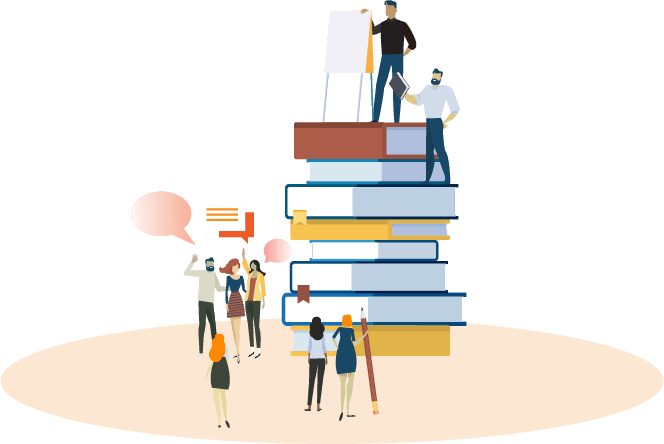 The following Terms of service provide a legal framework that covers the terms and conditions of use to access the seekNcheck (Platform) as well as the use of its services by all its Users, may they be Seekers (Users looking for proofreaders and / or translators) or Checkers (Users offering proofreading and / or translation services).
They provide important information on the rights and obligations of Platform members. They protect them from any misuse or abusive conduct, disrespectful or illegal behavior of its tools and services, and provide information on their legal remedies. By accessing the seekNcheck Platform, and using the services and tools offered on it, you agree to comply with these Terms of service.
Please, read them carefully.
General terms of use
Last update: May 18, 2018
1. Definitions
The Platform: this term refers to seekNcheck's web site including all services and features offered on it.

User: any person using the Platform or any of the services offered by the Platform.

Seeker: Users looking for proofreading and translation services for their documents.

Checker: User offering their services as proofreader and/or translator on the Platform.

User Content: the data transmitted by the User within the Platform.

Login information: the required information to identify a User on the Platform, such as their username and password. The username and password allow the User to access services reserved to Platform members. The password is confidential.
2. Access to the Platform's services
2.1. To use the seekNcheck Platform services, you must register beforehand. Registration is free as well as all the features offered through the Platform. However, the services offered by Checkers (proofreading and/or translation) are not free. The rates for their services are set by the Checkers themselves.
2.2. Users must be 18 years of age or older, and have the legal capacity to commit to contracts to access the Platform, create an account and use the services and tools of the seekNcheck Platform. By accessing the Platform, creating a User account on the Platform or using the Platform's services and tools, you certify that you are at least 18 years old and have the ability and power to enter into contracts.
2.3. The Platform implements all the means at its disposal to ensure quality access to its services. The obligation being of means, the Platform does not commit itself in achieving this result. SeekNcheck is not liable for any event due to force majeure resulting in a malfunction of the network or servers of the Platform.
2.4. Access to the services and features of the Platform may at any time be subject to interruption, suspension, modification without notice for maintenance or for any other case. Users undertake not to claim any compensation following the interruption, suspension or modification of this contract.
Users have the possibility to contact the team in charge of the Platform by email using the form Contact us.
3. Intellectual property
3.1. As a brand, seekNcheck has had its name, logo, Platform graphics and content protected. Protection is guaranteed by the Intellectual Property Code and by Copyright.
3.2. A User may not reproduce the properties of seekNcheck in whole or in part without written permission. Any reproduction or publication may lead to prosecution.
3.3. Any commercial use of the Platform by a User, other than remuneration relating to any services he or she provides, is prohibited.
3.4. The User is responsible for all content published on the Platform. Such content must not be disrespectful in nature and must not harm third-party interests. Any legal action that may result from such conduct shall be at the User's expense.
3.5. A User's content can be deleted by the Platform following a unilateral decision, to guarantee the proper functioning of the Platform.
4. Personal data
4.1. The data requested from Users allows them to create their accounts and to verify their identity in order to guarantee the services offered. Such information is used by seekNcheck to administer and manage the Platform.
4.2. The seekNcheck Platform respects its Users' privacy. As provided by law, Users have a right to access, rectify, delete and oppose to the processing of their personal data. This may be done via their personal account and their profile but also by submitting an email request to contact.at.seekncheck.com.
For more details on the management of our Users' personal data, please consult our Privacy Policy.
5. Liability and force majeure
5.1. The User is responsible for keeping his password secret. Any disclosure of the password, regardless of its form, is prohibited.
5.2. The User is liable for the risks associated with the use of his username and password. The Platform accepts no responsibility.
5.3. Use of the Platform by the User that directly or indirectly results in damage must be compensated to the seekNcheck Platform.
5.4. The safety and confidentiality of data transmitted over the Internet cannot be 100% guaranteed. However, the Platform commits itself to implement all the resources, technical and legal, necessary to guarantee the security and confidentiality of its Users' data.
5.5. The Platform shall not be held liable in the event of force majeure or any other unforeseeable event beyond its reasonable control caused by a third party.
6. Hyperlinks
6.1. Many outbound hyperlinks are present on the Platform, however, the web pages to which these links lead are in no way the liability of seekNcheck, that has no control over these links or their content.
6.2. The User therefore agrees NOT to hold the Platform responsible for the content and resources relating to these outgoing hyperlinks.
7. Changes in contracts
The Platform retains the right to modify at any time the terms and conditions stipulated in this contract and the liberty to amend its conditions of use in the best interest of all its Users. In that event, Users will be informed before implementation.
8. Term of contract
The duration of this contract is undetermined. The contract becomes effective as soon as the User has registered.
Special terms of use for Checkers
Last update: May 18, 2018
The Special Terms of Use are in addition to the Platform's General Terms of Service for Checkers. Checkers are seekNcheck members offering proofreading and/or translation services. Checkers are seekNcheck members offering proofreading and/or translation services.
If you are a registered Checker on the Platform, please read these special conditions carefully.
1. Legal procedures and permissions
1.1. Checkers are entirely responsible for checking and complying with all laws, rules and regulations concerning proofreading and translation services on the Platform. In some countries, such as France, in order to be entitled to offer their services for remuneration, public officials have to submit a declaration and obtain permission to combine their activities apart from their public service contract.
1.2. Checkers are entirely in charge of obtaining the necessary authorizations, permits, licenses or registrations in order to offer their services in accordance with the laws of their place of residence.
2. Eligibility and Liability
2.1. You agree to comply with all export restrictions and regulations of your country. You hereby certify that (i) you are not residing in, and that any of your proofreading and/or translation services are not provided in, a country that is under US embargo, or that has been designated by the US Federal State as a "state supporting terrorism", and (ii) you do not appear on any prohibited or restricted US Federal State parties' lists.
2.2. Certain features of the seekNcheck Platform and how they are used may be subject to separate policies, standards or rules, or may be subject to you accepting specific terms and conditions. In the event of a conflict between these Terms and Conditions specific to a particular feature of the Platform, the specific terms will prevail, unless otherwise stated.
2.3. IF YOU ARE A PUBLIC OFFICIAL OR CONTRACTUAL EMPLOYEE UNDER PUBLIC LAW, YOU MUST COMPLY WITH THE REGULATIONS OF YOUR COUNTRY. IF YOU ARE IN THIS SITUATION AND LIVE IN FRANCE, "COMBINING EMPLOYMENT WITH OTHER ACTIVITIES (RESTRICTIVELY LISTED BY LAW) IS POSSIBLE EITHER THROUGH A STATEMENT, AUTHORIZATION OR FREELY DEPENDING ON THE ACTIVITY IN QUESTION". FOR FURTHER INFORMATION, THE ANCILLARY ACTIVITIES THAT MAY BE AUTHORIZED ARE DEFINED IN CHAPTER I OF TITLE II OF DECREE N° 2017-105 OF 27 JANUARY 2017 CONCERNING THE EXERCISE OF PRIVATE ACTIVITIES BY PUBLIC OFFICIALS AND CERTAIN PRIVATE LAW CONTRACTUAL AGENTS WHO HAVE CEASED THEIR FUNCTIONS, TO THE COMBINATION OF ACTIVITIES AND TO THE ETHICS. THESE STEPS ARE ENTIRELY UNDER YOUR RESPONSIBILITY. SEEKNCHECK SHALL NOT BE HELD LIABLE FOR ANY BREACH OF THIS OBLIGATION.
Sample form to request authorization to combine activities
Complete rules and regulations
https://www.service-public.fr/particuliers/vosdroits/F1648
https://www.fonction-publique.gouv.fr/cumul-dactivites-a-titre-accessoire
3. Profile checks
3.1. The seekNcheck platform performs a verification and validation procedure on the access and use of its services by proofreaders and translators. This procedure includes verifying the identity, skills and qualifications specified in the User's profile, as well as agreeing to confidentiality and non-disclosure agreements concerning handled documents.
3.2. To fully enjoy all the benefits and services offered to Checkers on the Platform, you agree to provide the background information required to verify your identity, skills and qualifications.
3.3. You will find a detailed description of our Checkers profile verification process in the ""Checkers profile validation" section" of the website. In addition to the verification process, to ensure transparency and to prevent fraud, subject to applicable laws, we may, but are not obligated to (i) ask Members to provide us with further information, or to undergo other checks to verify the identity and background of Members, (ii) consult third party databases or other resources to verify whether Members are on them, and request reports from service providers, and (iii) in the event that we have sufficient information to identify a Member, obtain criminal or sexual (or similar) offense file extracts from local authorities (if available).
4. Commitment to quality
Checkers must meet certain standards regarding the quality of their services and reach certain rating standards to ensure the satisfaction of all Users whose documents they have handled.
5. Engagement de confidentialité et de non divulgation
As a Checker, you warrant to protect the documents entrusted to you, not to use them in your own interest, nor to entrust them to third parties or to share them, under any form whatsoever.
6. Cancellations, modifications and refunds
6.1. You commit to fully complete the services you accept within the deadlines specified in the offers you accept.
6.2. In the event that you must cancel a confirmed and in progress service, you agree to refund the full payment received for the service.
7. Service Fees
7.1. SeekNcheck does not charge any recurring service fees or subscriptions. However, in exchange for the use of the Platform, seekNcheck deducts at source 10% of the total amount of each payment that the Checkers receive through the Platform.
7.2. SeekNcheck retains the right to change the amount of this fee at any time. Seekncheck will inform all Platform members of any rate changes before they are implemented, within a thirty (30) day minimum period.
8. Terms of payment
8.1. Payment services for Checkers operating on seekNcheck are provided by Stripe, a specialized and secure online payment solution. These services are under the terms of the Stripe Connect Account Agreement (Stripe Connect Account Agreement), which includes Stripe's Terms of Service (being referred to as the Stripe Services Agreement).
8.2. By accepting these Terms of Use or continuing to operate as a Checker on the Platform, you agree to be bound by Stripe's Terms of Use, which may be amended at any time by Stripe.
8.3. As seekNcheck provides payment via Stripe, you agree to provide seekNcheck with accurate and complete information about yourself and your occupations, and authorize seekNcheck to share this data and any information regarding transactions made through the payment solution provided by Stripe.
9. Right to Amend these Terms
9.1. SeekNcheck may amend the present Terms and conditions at any time adopted in accordance with this article. If we change these Terms, we will post the amended Terms and Conditions on the Platform by changing the date "Last update" at the top of the Terms and Conditions.
9.2. You will be provided with notice of amendments through email at least thirty (30) days prior to their effective date. If you disagree with the amended Terms, you may terminate this Contract with immediate effect. We will inform you of your right to terminate the Contract in the notifying email. If you do not terminate your Contract before the effective date of the amended Terms and continue to access or use the seekNcheck Platform, you will be considered to have accepted the amended Terms.
Special terms of use for Seekers
Last update: May 18, 2018
1. Requesting services
1.1. You can seek Checkers, to handle your documents, either from suggestions made by the Platform's algorithms, or through our Checkers search tool.
1.2. When requesting the services of a Checker, you agree to comply with their pricing conditions. These are provided to you before approving your request for services.
1.3. As soon as a Checker you have requested accepts a service, a legally binding agreement ties you to the Checker and provides the terms and conditions for cancellation, modification and refund of the service.
2. Accepting service proposals
2.1. Checkers can offer you their services for documents you make available to Platform members. When accepting a proposal from a Checker, you agree to comply with their pricing conditions provided in the service proposal, and not to alter any content provided regarding your document such as the type of service expected, the due date or instructions on the work expected.
2.2. As soon as the service proposal is accepted, a legally binding agreement is established between you and the Checker and provides the terms and conditions for cancellation, modification and refund of the service.
3. Responsibilities
3.1. When you upload or submit a document to Checkers on the Platform, you confirm that you have the rights that allow you to use that document.
3.2. Being a Seeker, you decide which Checker you want to propose to handle your documents according to your own criteria. SeekNcheck offers a set of tools designed to facilitate your choices and enhance certain selected profiles in relation to the work expected and the submitted document. However, the final decision is yours and seekNcheck is not liable for it.
3.3. SeekNcheck does its best to run background checks on Checkers profiles that are presented to you. However, it is difficult to check Users on the Internet and is not guaranteed to be flawless. We decline any liability on possible errors concerning authentication of the identity or information of any Checker.
4. Cancellations
4.1. You agree not to cancel any confirmed and in progress service. Any cancellation of a service that occurs more than 24 hours after its confirmation and before the deadline will invalidate the contract and will not be refundable.
5. Claims and refunds
5.1. In the event that you consider the work performed by a Checker unsatisfactory, please send us a complaint email clearly and precisely explaining what justifies your claim.
5.2. When we receive your complaint, an inspection by a qualified expert of our choice is performed, based on the information and explanations provided by you, at our expense.
5.3. If your claim is found to be fair and well-founded, we will refund the full amount paid to the Checker for the service. However, to prevent any abuse, if the claims are unfounded, fictional or misleading, you agree to pay for the additional services provided within a maximum period of thirty (30) days following the reception of such notice by us.
5.4. When we receive a complaint, we will do our best to verify your allegations as quickly as possible. In any case, we will strive to perform the inspection procedure up to a maximum of 250 words per hour of work. Given the variety of document types and workloads, we are unable to commit to any fixed deadlines for completing the process.
6. Ratings and Comments
6.1. Seekers have the option to post comments and star ratings on Checkers that have handled their documents. Comments and ratings are available to all Users of the Platform. They represent the Seekers' views on the work performed by Checkers and do not necessarily reflect the views of seekNcheck.
6.2. You agree, as Seeker, to provide factual and accurate comments and ratings. You agree not to publish any offensive or defamatory comments that are intended to damage a Checker's reputation, or to manipulate other members' views about a Checker.
6.3. Comments and ratings provide feedback on how work performed by Checkers is valued by Seekers who have benefited from their services. These comments and ratings are not reviewed by seekNcheck. They may be non-objective, unfounded or misleading. They do not hold seekNcheck liable.
Legal Notice
Editor of the website
Seekncheck, Inc.
A Delaware Corporation
SR #20180276993
File Number 6711867
Physical address
Seekncheck, Inc.
2035 Sunset Lake Road
Suite B-2
Newark, Delaware
United States 19702
Editorial Manager: Ben-Manson TOUSSAINT
Phones: +509 42 43 61 33 | +33 6 51 94 67 36
Email: contact.at.seekncheck.com (OR Contact form)
Website: https://seekncheck.com
Web site host
Domains By Proxy, LLC
14455 N. Hayden Road
Scottsdale, Arizona
United States 85260
Phone: +1 480 624 2599